SM-117 Cylinder Mounted Chlorinator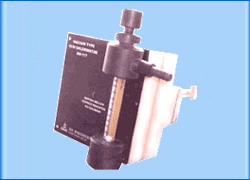 Description

The Cylinder mounted vacuum type gas chlorinator SM-117 is designed for assuring safety & Space saving Chlorinator, consist of vacuum regulator, rotameter,flow control valve, Yoke clamp to connect directly on cylinder A gas filter, a injector assembly vent & vacuum tubing of 5 meters.
Principle of Operation

Water Under pressure passes through injector cause vacuum, which open spring loaded diaphragm check valve. Vacuum passes through vacuum tubing to the chlorinator When cylinder/Tonner valve open chlorine passes through self aligned yoke gas filter where foreign particles are removed if present, chlorine gas passes to regulator where the cylinder pressure is controlled by the inlet valve assembly When vacuums adjusted by control valve vacuum opened the inlet valve with the help of diaphragm assembly and allowed chlorine gas to passes through flow meter where flow can be adjusted an to injector & point of application. If any break in the vacuum line occur the system automatically shut off the chlorine gas supply.
Material Of Construction

Totally non corrosive materials are used in chlorinator such as UHMWHDPE, PTFE (Teflon), monal, PVC, Borosilicate Glass, Hastelloy "C", PVDF, VITON etc
Technical Data
Meter Ratio
20 : 1
Water Pipe Connection
32" Dia G.I. / PVC Water Inlet 40" Dia C / PVC, solution line.
Vacuum Tubing
9mm ID soft polyethylene tube
Maximum Working Pressure
15kg / cm2
Maximum Working Back Pressure
7kg / cm2
Shipping weight
40kg
Dimension
H'5 x W 1.5' x D1'
SM 207 SMPC Chlorinator needs water line pressure of 4 kg /cm2 to feed in gravity way otherwise booster pump is required as per site condition
Areas of Application
Water Filtration Plants
Cooling Water Systems
Sewage Treatment Plants
Industrial Effluent treatment
Installation Offerings
PVC / Polythene Pipe / Tubing for Vacuum Supply
Liquid / moisture trap for chlorine gas
C. S. Piping / Copper Tubing
Booster pump, Chlorine Test Kit
Erection and Commissioning
Annual Maintenance Contract for any make
Non return valve, strainer etc